Day 3
You may recall, the day before I hadn't had a chance to get more water, which had to lead me to be stringent on my water economy the night before. My priority that morning was to get supplies. I rode into the town of Malaucène, where I treated myself to a coffee, then spent approximately €5 on bottles of water, a saucisson, tomatoes and a baguette. I was now ready for my day ahead.
Lavender at last!
As I headed on out of Provence down some A/B roads out between some fields I found myself the odd field now and then of lavender, and almost as an animal possessed, I found myself riding down gravel roads around farms and barns trying to get nice angles to photograph the setting. Most of which, in the midday sun, didn't really make for a good photograph.
There was no plan for day 3, all I knew was I needed to head toward the Loire Valley. I had saved some GPS coordinates of places to wild camp, at what I guestimated to be the half-way point between Gordes and Tours. I hadn't taken any careful decisions about the route or where I'd end up. My expectations were low, my schedule was easy and my morale was up.
As I wound my way through the slow roads to the GPS location near a lake, I found myself in and out of the rain. When it wasn't raining it was hot and humid and when it rained it was cold and miserable; it's that battle of "Do I really need to put on my waterproofs?" before nearly chattering your jaw with the cold. However, the riding got better as I got to this mysterious location I was navigating toward. As mentioned before I had no expectations and that was probably the best frame of mind to travel in.
What was nice about this particular day was, I had no conceived knowledge of the landscape ahead of me, I had never paid attention to this part of France on any map and everything was a new thing to me, the landscape, the villages, churches, castles, the weather, everything!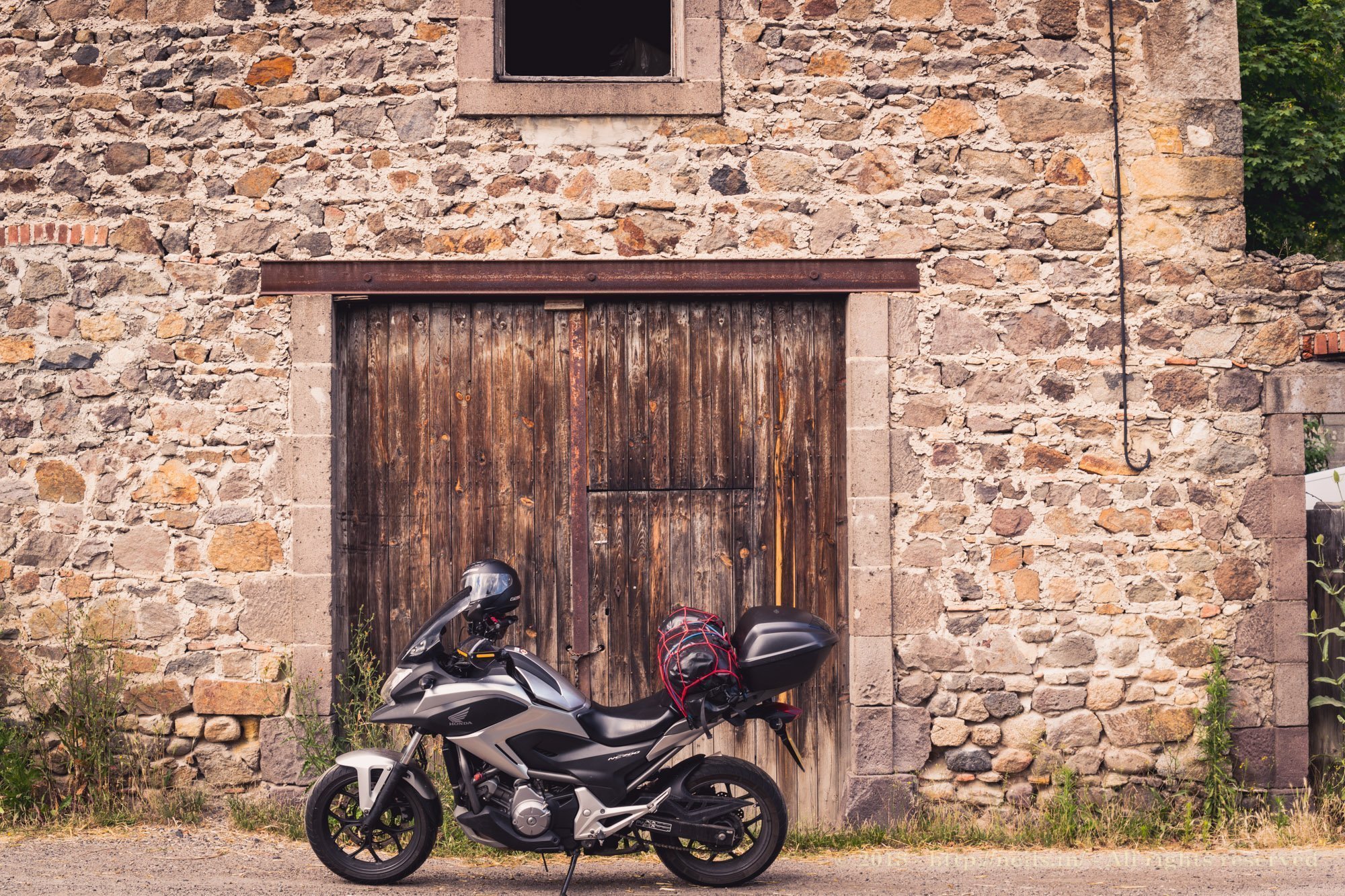 I was overwhelmed with the excitement when I arrived. I had seen from the map when navigating there that there was a perfectly round lake nearby, but what I hadn't realized (if I had looked at the elevation) was that this was a volcanic crater. The lake sat about 50 meters down sheer banks of a densely forested mountain top, there weren't any villages nearby and the surrounding landscape was meadowy fields with the occasional chiming of cowbells.
Since I had plenty of time before sunset, I set about taking a walk around the lake, it was a great trail, however, by a quarter of the way around I saw that I'd not make it to three-quarter of the way before dark (since the wood was dark)
In the night…
I woke up to relieve myself (something I rarely do) … it was cool but perfectly still. I wandered out of the dense forest to catch a glimpse of the sky. I almost fell over myself when I saw it! I ran back and grabbed my camera and tripod and climbed the barbed wire fence without any lights in sheer awe of the sky above me. It was the most immense starry sky I had seen in a fair while, reminded me of back in Colorado.
I took a few long exposures, although forgive me, I had only woken up 5 minutes before and I was clambering around in my boxers in a field in the dark of the night.