The tool of choice for the trip of 2008 was the Triumph Tiger 955i, fitted with a Scotoiler, heated grips, Datatool System 3 (alarm), and the generic Triumph panniers.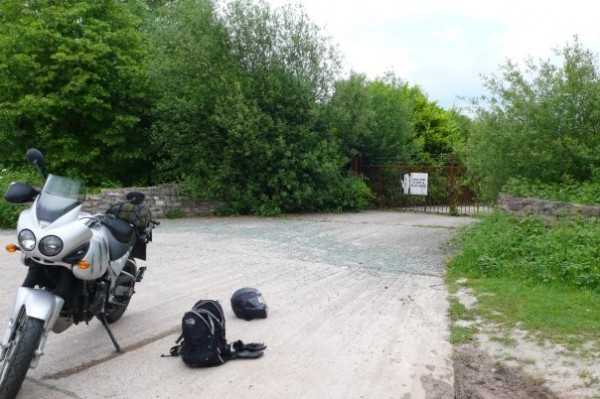 I've owned it for 9 months, and in two weeks covered over 2500 miles.
So what did I make of it?
Not much. In short: It was (and is) heavy, too tall, too juicy and clumsy.
To be fair to it, it is a sound bike. I never doubted the mechanics of it once, which is why I bought it. I never tinkered with the motor and never needed to. It simply went. So why am I so harsh on it? Honestly, I am being totally unfair on the bike. The bike is fine, it was merely a bad choice of mine to use it for what I wanted it to do. It looks like it could do some off roading, but you try and drive on anything other than smooth perfect tarmac and you'll know what I'm talking about.
With a dry weight of 215kg, then add oil, battery, fuel … and +30kgs of luggage. It isn't pretty, especially if like me you're 5'10 and can't reach the floor with both feet. I am the only one to blame for getting this bike, I know I've said it enough times to myself.
Snags I've had with this bike
Having had it for 6 months and only denting it 4000 miles, having done nothing to it from the day I purchased it, except for fuelling her up, she did pretty well to get to Stockholm (via Calais). The front brakes miraculously died on me in Norrkkí¶ping (Sweden), without any warning. One minute they were fine and next I was pulling the lever right back to the grip to get some response. With nobody available to help me in that town I rode another 160km to Stockholm without any front brakes, in the hope of finding some. I was able to find a large motorcycle outlet and got the brakes I needed and fitted them in the car-park.
Honestly, I had no idea what I was doing, or whether I had the right tools for the job. I got my tools out and luckily had the right socket sizes with me to remove the callipers, and remove the pads out of them. Once fitted the need brakes and cleaning the discs I was much happier with my braking.
A real snag I had with this bike was the Alarm, why on earth did I need an alarm?  I'd arrive at some quiet little village, empty valley in the middle of nowhere. Turn off the engine and walk away and 40 seconds later the bike would arm itself with it's BEEP! BEEP! I wish there was a way to just turn the damn thing off.  It is more of a nuisance than and blessing to have this alarm.  I don't think the alarm has ever gone off unless it was me triggering it.  An immobilizer, and/or a disc lock would be such a better idea.
Suggestions for a revisit of the same trip
A smaller bike. I'm currently looking for the right bike that is between a 250 and a 400 enduro, I have every intention of making whatever it is a single owner affair. As in, with no scope or desire for re-selling it.