Hi folk, after saying our farewells yesterday in Shrewsbury, the guys from motovlog.com and I separated our ways. I set forth for the hills…
After what seems a relatively short drive in a gradually worsening weather day, I found myself dreading this whole trip. About 3 miles from Buxton, I pulled into a bus shelter to get out of the rain and fog, my 2 layers of waterproofing were not working and by this point I was drenched down to every item of fabric.
I sat in the shelter for about 40 minutes, before returning to Daisy outside. Only to discover, I left the fuel tap on (I had been desperate to get out of the weather I forgot the basic of most basics). Thankfully, the weather held out, and after cooking myself lunch, I set about starting her up. Unlike most times, this time she was not starting.
I took Daisy apart took the spark plug out and it was dry, put get back together again, and as I did so finally someone saw me turned around and came to offer me help. John, who was a old boy riding a Yamaha Serow, offered his help and stayed with me until we got her started. This involved, rebuilding Daisy, packing her up, pushing her half a mile up hill to the brow of the hill that descended to Buxton…there on the 2 or so mile descent into town I tried starting her, she was not happy.
After pulling over in a petrol station, John and I took daisy apart again, this time the cylinder was flooded with fuel, the spark plug wet, the HT head was according to John passing a shock a he checked for a spark. Suffice to say 4 hours or so later after pulling over, I finally got the bike started again.
Then with little time left in the day and the weather ever worsening, I tried to locate somewhere to stay for the night. I was far too wet and tired to camp any more. I found myself a bunk house on Google maps and tried to locate it… Well that was a mission in itself! Having driven most the way back to Leek from Buxton and almost every wrong turning imaginable… 4 phone calls later I finally arrived at the Roaches Bunk House, which is named not for the insects or the drug connotations but for the rock formation it backs onto. At £10 a night with all the facilities I needed, I was happy.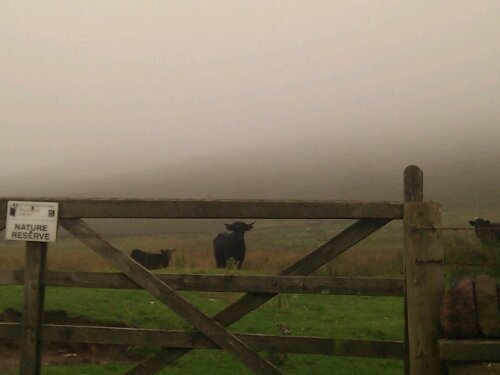 Today I hope to make it to Kendal where Noel is awaiting me to show off his new blow-dryer motorbike a Honda NC700X, I'm not too convinced by an automatic!