Touratech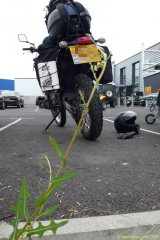 I just did my first oil change since London, not  had to do this before while on the move, but owing to the single cylinderness of the DRZ oil changes are recommended every 800 miles. I tried to give the last 300ml of oil to the mechanic who let me use his bowl to take the old oil out. He insisted kept it. So with few options remaining I strapped it on the side of the panniers… oh wait, touratak (Touratech)make special straps for this.
Oil prices in France for future reference is 3 times that of what it is in England.
Currently in Royan hoping ot book a Ferry to cross over to Verdon-sur-mer… I hear the road from there southward is beautiful.
Currently in a lot of pain, right wrist playing up again. Been having a go at left hand throttling and riding incredibly slowly.
How's this for a bit of engrish/englais: