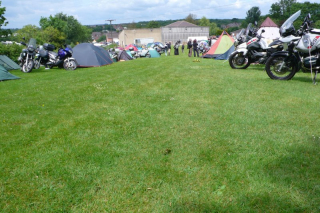 Hi hi! I'm back from the Horizons Unlimited Travellers meeting 2009 (as it says on the wrist tag we had to wear). It was an amazing weekend even if it did start on Wednesday. I met some amazing people and listened to some great people speak and above all, I learnt a whole lot.
The HU (Horizons Unlimited) community are such friendly people and the authors of whom I spoke with were just down to earth people, who just as easily will muck in and help everyone else out just as anyone else there would.
I made some really good friends that I'd happily meet again, in fact probably will when I get back after Andorra. Ed and Dan were pitched next to me along with Chris and we practically did everything else together.Unbeknown to me they were presenters at the show talking about their amazing trip from Brighton to Capetown.
On Thursday I got chatting to some old geezer setting up a tee-pee style tent and that too turned out to be Simon Gandolfi from "Old Man on a Bike". His lectures had the audiences in fits of laughter. Along with that, everyone else there seemed to have written a volume of books or have been world travellers of sorts.  Sam Manicom, rode round the world for years on end or Sjaak Lucassen who too has done the round the world trip .. but with a difference… on an R1.
It was an amazing time, and I'm so glad I went alone. The bike lived up to expectations on the journey there and exceeded my expectations there by having people stop and stare at my bike for 5 minutes at a time throughout the whole weekend.
I also managed to finally empty the Aqualine tank… 456 miles before reserve. I was however a little frustrated that despite there being over 2 litres left in the tank, only about 300ml was usable owing to the dips/troughs and the fuel tap well was the smallest reserve of fuel. I'll have to work something out regarding this. 😀
Here's some pictures:
One last thing, Alec from Core Racing…. what a diamond guy! He drove down from York with my missing parts from my Aqualine tank and  fitted it for me. The world is full of good people!