Hey guys!
So after vaguely discussing the matter of France with Alex, be both agreed we weren't too interested in the big expensive country that stood in the way of our objectives. Mostly because the fuel is so expensive (by comparison to Spain and Andorra) and the motorways you have to pay to use, and on the way home that's the last thing you want to face.
Anyhow after a slow start on Thursday packing we set off with Noel in the lead we headed through Andorra for a fuel stop into La France; where Noel turned about near Foix and returned to La Molina.
Cue: afterburners.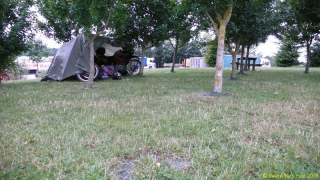 Alex and I burned up the highways until we fell floppy on the roadside of a motorway service station (about 30 miles/50km from Limoges). We made camp with Alex's tarp thrown over the bikes and slept surrounded by trucks and picnic tables (pictured).
We woke up at 7 and after a baguette and a coffee we powered, on through the day facing crap roads, expensive petrol (for Alex at least). Eventually at (rainy) Paris we decided to bite the bullet and pay for the toll roads since without them it was bloody impossible to do things in a hurry having to stop at 800 sets of lights at each town.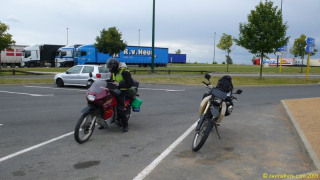 Just before Arras we split (pictured), Alex still had to get to Utretch (Holland)  and I still had to cross the channel over to England.  I turbo'd my little DRZ at 80mph (130km/h) through the rain to Calais where I arrived a wet shivering mess trying to muster up the little French I had to ask  for a change of crossing on my ticket. Lucky for me I had 30 minutes to wait and then everything fell into place.
Arriving at Dover at 9:30pm with 75 miles (120km) to go and no dipped lights or taillight I gunned the motorway with full beam and the brake light switched on; apologies to the offended traffic. I arrived at 10:30 surprising my mum being 2 days early. 😀
Final slog was 577 miles (928 km) in one day. Just goes to show the DRZ can do tough stuff too!