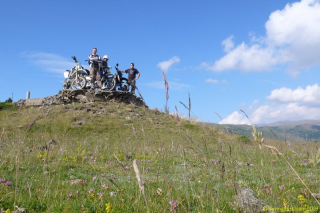 So Noel, Andy, Alex and I met up for the presentation of the Mountain Madness event.  A little disillusioned by the whole thing, we took it very un-seriously and didn't look at the map for too long before itching to go off road and try some trails.
At about the same point Alex, decided he should go off to look for a bike shop/garage to get some routine stuff to be done to his bike, oil filter change and such-like. He came back a little down-beaten by having lost yet another piece of his luggage on the road. He spent the rest of the afternoon filling out police forms and insurance things.
Anyhow we ate a really good meal down in town before sampling a trail where I nearly lost all desire to be here. It consisted of loose rocks deep ruts and sand… I was petrified and the bike decided to misbehave at low revvs causing me to stall and drop it in a 2 foot rut.  Confidence beaten I didn't really care to go on, anyhow I carried on and we found more realistic trails.
Anyhow, here's today's shots. Thank Noel for the good ones…  (dog pictured for Elaine)