Hey there!
After a crappy night in the campsite last night with people making sounds till late and then waking up in a storm at 2am (having only put my fly sheet up) and getting everything wet.. whilst fumbling to put the storm sheet over in the dark, would alone make a bad night. I was however also in a lot of pain from my wrist/neck which I wish not to nag about but was pretty painful and stopped me from getting much rest.
Anyhow, that said today I had a slow start and left the campsite at 11am after I had planned my journey and suchlike and made the necessary arrangements. After closely  studying google maps and chatting with Edurne I found that from where I was, I just had a 270km trip to get to where I wanted to be, which also fell on route to León (Pierre's supposed town).
Miraculously, I hit León at exactly 1pm and that was just under half way there, after phoning Pierre and talking to him, I discovered I was nowhere near and that the deviation would be huge.
I settled down for a local restaurant's menu of the day (which I recommend you do if you're not cooking for yourself, good fresh food at affordable prices).  I got some regional mussels dish and chips … that's right one of those gigantic pans (size of a bucket) filled with steamed muscles.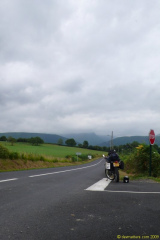 Onward, 2pm I was back on the road eating kilometers and fast approaching the Pyrenees. My absolutely atrocious map.. which I'd like to remind you is a 2008 Collins European Road map… which I had equal bad luck with last year. Proved to be a greater hindrance than a tool. I resorted to asking people for directions and taking educated guesses as to which road to take.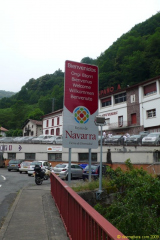 The topography began to start going up and down, and then soon, it started to cause the road to swerve left and then right… and then rivers started to form.. and then…. the road would be following a river.. and then the road was climbing mountains… and then border (Pictured. somewhere between the previous photo and this I lost my side stand prop that I very carefully crafted 3 minutes before setting off)
Anyhow the roads after the border got a whole lot more exciting, the road speeds dropped down to a juddering 30km/hr and even when you think you could take it faster you were proven wrong, they were too narrow, too steep, and too tight to take any faster and they  were accountable for the best fun roads I've ever ridden. The higher I climbed the deeper the fog/mist became and at the same time the bends were getting tighter.  I managed to overtake a few cars and eventually a motorcyclist who I later met at the top of the mountain we'd been climbing: Ibañeta (pictured below).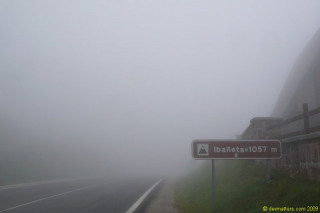 I got talking to the lone biker (Alex) when he arrived at the top; he was a Swedish guy riding a Transalp we got chatting for a fair while and forgot the time a little, anyhow we exchanged details and hopefully might meet up in Barcelona if things work out.
Anyhow,  from there I sped on down to Aoiz and had a time of my life riding the bendies in clearer weather and found the place no problem. The evening passed quickly into a pre-party party in Pamplona centre, watching people perform and thousands of people gather in the city centre.
That's about it folks. Shattered! it's 3/4am (think the clock is wrong)… very very tired. Niiiiight.