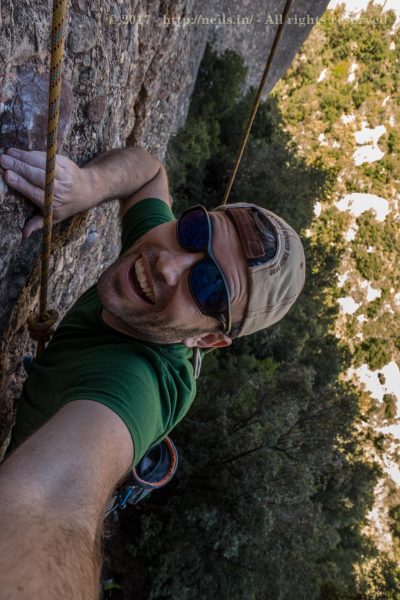 This weekend, I went to El Vermell del Xincarró. Which is a climbing area on Montserrat mountain here in Catalonia, with a new group of climbing friends.
I have been on various social networks trying to find more climbing friends. This particular set of people I found on a Facebook expat group. Before I knew it, I was added into a Whatsapp texting group getting hundreds of texts about places to meet and climb.
Last weekend while cycling, I was actually getting quite irritated with all the texts from people I didn't know about a place I wasn't at.
This weekend however, was a different story: I was excited to keep reading where and when we would meet.
Finding climbing buddies is like going on a blind date!
Meeting at Bar Ana
To make an analogy: as with going on a first blind date, much like meeting a group of people you've never met before: getting to the place wasn't the issue (maybe being on time was). However, introducing yourself is the daunting part!
Firstly, I wasn't expecting the café to be full of climbers. As I entered a room full climbers, some groups of people at the café were Catalan, some Spanish. Obviously, my group all speaking English (as a second language).
None of them I had met or seen before, so I wasn't expecting to recognise anyone, which scared me.
Interestingly, I was the only native English speaker there! However, everyone communicated in English, and it was great (for me)!
We were soon getting to know each other, and then planning how to get to the approach to the climbing area.
I was a little intimidated knowing how hard the routes were going to be! The climbing area from what I had read, is mostly difficult climbing routes: rated mostly 7, with a few 6, and a couple of 5Bs.
Hiking
Driving from the cafe to the parking, the last kilometer was of fair graded dirt, and I had no issues with the motorbike. Parking, was abundant and I was able to find a nice shaded area to leave the bike under an olive tree.
The hike up which is about 1 kilometer up hill was fairly narrow and bushy, a little uncomfortable with the packs, but not unachievable and very easy to find.
Climbing
While the climbing base is fairly limited on space, it seemed to have good energy of camaraderie from fellow climbers walking by with friendly greetings. There was no treading on each others' ropes or pushing past. 🙂
I started the day lead on my first route…was this a mistake? If first moves set the tone of the day, this certainly ruined it for me. This particular fifth B (5B) totally destroyed me! I got to the third bolt and couldn't continue.
My feet had nothing, my fingers literally pinching pebbles, arms full reach bear hugging the rock five meters up.
Before long, I had cramp in my left foot and after taking a break up there, I just couldn't find any energy to continue. I came down, and spent the rest of the day being top-roped on all the routes.
I felt humiliated. However, I completed a handful of climbs that I have no explanation how, but I simply just did! …top-rope of course.
Guys, Montserrat is hard!
These slab climbs were all fairly pokey, little to hold on to, and literally trusting your shoes, and mostly using your big toe to hold onto a bump on the wall.
I can honestly say, I've climbed higher rated walls in the past but these low graded climbs were hard!
Observation on El Vermell del Xincarró
In Spain, most climbing routes are Sports climbing (meaning you don't need to have climbing friends, hexes or stoppers) the bolts and anchors are usually very good and the experience is normally great.
However, maintenance at times can be an issue, and one particular route the anchor at the top had seen a lot of "good use" as pictured.
That carabiner (pictured) now cannot be used because of this abuse which is quite sad.
To replace these hard fixed anchors involves a lot of work taking out the old bolt, re-chemical fixing a new one while 30 meters up.
In Closing
We had a great day out climbing and after 6 hours on the walls we headed back to Barcelona.
Montserrat is a 35 minute drive from home and makes me reflect on how back in England, planning a day out climbing would need so much more energy to commit to it, hence why it never happened.
Also weather is always usually is on your side out here in Spain. 🙂
I look forward to going out climbing with these new friends, I would really like to see if I could get them to join me bouldering some day. 🙂
The Route to El Vermell del Xincarró