Hi all, I've now been in Cairo for 7 days!!! I have managed to get 1 visa. Woot! The bad news: tomorrow is some holiday and the Ethiopian embassy wont be open until Thursday. However, the visas will not be processed until after the weekend (keep in mind Arabic weekends start Friday and end Saturday), other bad news is that after calling Mr Salah, in Aswan, regarding the ferry for Monday, he's informed me that it is fully booked and that we'll have to catch the next sailing, the following Monday (18th October).
On the good side of the bad news, I met a Swedish couple in the Sudanese embassy who were collecting their visa at the same time as me, and we discussed the problem with the Ethiopian visa, they said that they were assured by the Ethiopian embassy in Cairo that the visas could be processed as easily in Khartoum. Which has filled me with confidence and added a jump to my step. This means we can leave Cairo finally tomorrow morning. We'll head firstly to Suez, see the canal in some shape or form and then head down along the Red Sea.
I'm not sure I mentioned my awesome fantastic arabic watch yet, I should it's an unmissable smile raiser on my trip it cost me 35LE which in real money works out to be about £3.85.
Another detail of much joy has been the kitten I almost jumped on on my was back from the Sudanese embassy.. it was as small as a fist curled up as a ball on the step of a shop. It's a hard life for kittens in Egypt.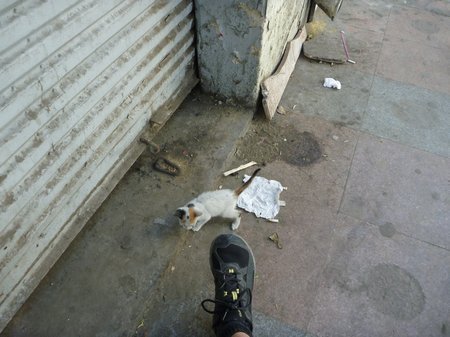 Anyhow, I look forward to camping on the beach and swimming in the Red Sea tomorrow!! 😀