This post is yet another cycling report: Tibidabo 004 (you will get used to them!) So, all is going well for me here in Barcelona! Since my tendon injury and my bike theft I've managed to heal up a lot on the arm and as I mentioned before I have bought another bicycle for which is slowly getting more how I'd like it to be!
I have now upgraded the rear with hydraulic brakes with a set of "Avid Elixir". These now positively stop the bike nicely, incredibly easy to install!  I bought a new set of pedals with cleats, which cost me €1.30; the seller told me he just didn't want them to go to the bin so he'd sell them to me for the cost of a coffee. 🙂  The previous set of pedals fell apart while Sam was here, I don't know how that happened!
I have salvaged some slicker tyres I'd like to fit at some point soon but for now I'm being lazy.
Tibidabo 004
I've been a little surprised with my results from Strava today. I took it very easy on the bike yet I managed to scrape 2 minutes off my last attempt.   I also managed to do it burning fewer calories, so I don't know how to interpret this.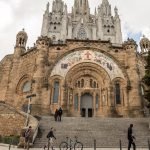 My ride report of my Tibidabo 004 ride is a little conflicted, I had a terrible time riding up to Tibidabo, the chain kept jumping out of gear while I pedaled up hill, eventually this did my knees in and the very last climb on the last 2 bends rounding to the top of the monastery the chain jumped down 4 gears as I was pedalling. I walked the last 50m of the cycle up. 🙁    I still don't know how I managed to scrape those 2 minutes off!