(Yet again I'm not writing this in the present so ignore the fact that it's titled where it is, I'm in a different country now.)
Border crossing from Tanzania to Malawi was seamless, easier than the border crossing into Tanzania (in which we had a few slippy-slidey moments from one border post to the other (on account of the mud and heavy rain), and then greeted with an unforgivable $5 USD bureaucracy charge to stamp our carnet (which defeats the whole point of the carnet being a free document)… however, this was all a long time ago and we're now in MALAWI!!! Like I said, it was very easy to get into Malawi.
So our first jaunt into Malawi we headed up to the university town of Livingstonia (however, Dr. Livingston never managed to make it here). The 15km ride up the mountain from the sealed road to this somewhat important university town in Malawi was surprisingly exhilarating; tight hairpin bends on loose gravel/sandy surface on a single lane track, the climb was nerve-twitchingly-fun and at the top was beautiful leaving you with the fear that you have the same road to get down again. However, in the good ol' British way, there was a typical Victorian stone building with a porch/veranda looking down from the mountain to the coastline of Lake Malawi, the staff were adorably humble and polite.
From Livingstonia, we headed south to Kande Beach a hot-spot for meeting overlanders on Lake Malawi which is approximately 55km south of Mkata Bay (which from what we saw of Mkata Bay we'd not recommend stopping there). There at Kande Beach, we spent 2 nights, it was a similar repeat of Tiwi Beach, beautiful sandy white sand beach, chilled out atmosphere boasting lots of exotic insects/animals to keep you busy fighting off. Despite the plausible availability of internet at the resort the mere cost of it stopped us from even trying it ($6 USD/ hour). Much to our disappointment this humming overlanding mekka was empty for the 2 nights we stayed there, only a Belgian family who have been 5 months overlanding from the south heading north and their two young sons who have both caught Malaria in Zambia… comforting to think that that was our next destination.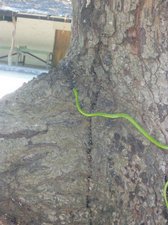 From Kande beach we headed to the Zambian border…. another very long day riding…
A few facts about Malawi: it is one of the poorest countries in Africa, boasting a population of 12 million and has 60% of the population under the age of 18…. and erm… 90% of the military and police are HIV+ as are 30% of all pregnant women. Just fun to think about!